Integration through Ethnic Marketing and Branding
"As politicians reach out to Muslim communities to secure their integration with rather than isolation from mainstream society, a growing number of businesses across Europe are doing the same," according to an
article
in the
Financial Times
. For example:
Nokia "has introduced the Ilkon i800, a mobile phone that directs users toward Mecca and tells them when to pray."
Heineken "has decided to roll out the nonalcoholic malt drink Fayrouz internationally."
Lloyds TSB "is the latest bank to introduce Islamic banking services"
GlaxoSmithKline "secured a statement from the country's Muslim Law Council that the company's Ribena and Lucozade soft drinks are halal"
Sony "is supporting the British launch of PlayStation Portable with an exhibition of Arabic art this month.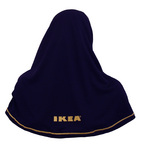 In a related story, an
IKEA
branch is planning to
design hijabs [pictured] for its Muslim employees
.
The article notes that the "internationally-acclaimed company... was making [an] effort to accommodate Muslims in its workforce."
DNSI
direct link
3 comments
Email post: