"Flap Over Muslim Firefighter's Beard"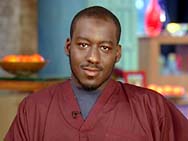 Philadelphia's
ABC affiliate
is
reporting
that "A Phliadelphia judge says
a Muslim firefighter who refuses to shave his beard on religious grounds
should keep his job for now while his legal case unfolds." The judge issued the temporary injunction on Monday.
The firefighter, Curtis De Veaux, "has been a practicing Muslim for about five years. He agreed to shave when he joined the department two years ago. But he says as his faith deepened, he decided he was no longer willing to compromise the point. "
De Veaux stated, "
My duty to follow my beliefs outweighs my duty to the fire department.
"
De Veaux is being represented by the
American Civil Liberties Union
and is suing under the Pennsylvania Religious Freedom Protection Act (PRFPA). An
additional press report
indicates that this case marks the first legal challenge invoking the PRFPA.
UPDATE:
ABC
has picked up the story. Here is their
report
.
DNSI
direct link
Email post: